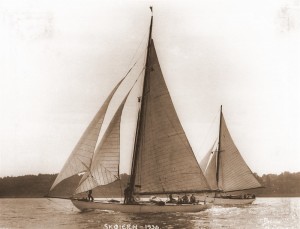 If Einård Bruusgård was not interrested in races it will be quite different when"Mars" became "Skøiern", especially in the 50ies, under the impulse of Louis Rivière. Since 1935, and perhaps before, "Skøiern"join the Cowes Regattas as shown on the pictures of Beken. In 1949 Louis Rivière has already transformed his boat in cutter, removing the bowsprit, backing the mast and shortening the boom. The mast is still impressive, about 23 meters high, and "Skøiern" will not ashame his owner. It is in these times, in years 50-60 that a number of crew, family, friends or simply students, will embark for many regattas and races.
***
In the Med "Skøiern" will race again, modestly participating in the "Coupes Phocea", Marseille, in 1987 and 1988, then later, and with the actual rigging, kecht and bowsprit, at the "Voiles de Saint Tropez" of 2002, 2003 et 2004, and the "Régates Impériales d'Ajaccio" in 2003 and 2004, the "Voiles du Vieux Port" in Marseille, 2003 and 2004. Not being myself a competitor, joining in this Einår Bruusgård, we will always take the help of competitor friends (Vivian Caumeil, Alain Barinet, Joseph Romy) for tactic matters, us in charge of manoeuvring. We will often suffer  a lack of wind, especially  in Saint Tropez, and we will need a good "mistral"to win at last in  Marseille. Nonetheless we must say that we always  raced with our boat fully equiped for cruising, ballasted  with the iron stove, a library of about 500 books and a galley well stocked. The pleasure to sail among wonderfull classic yachts was enough.
Skøiern is registered as 12 M JI, see http://www.12mrclass.com/
.