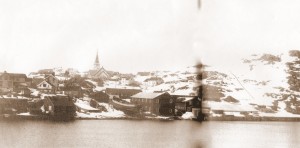 Jørgensen og Viik shipyard in Grimstad, year 1917
"Mars" was lucky to be built in Norway, in a ship yard dedicated to the building of big sailing ships and to be designed by Christian Jensen, who was boat builder before being designer. In fact her making will be particularly strong, midway between fishing boat and yacht.
A Norvegian shipyard, in 1918, it's a big shed on a beach, raft wood in front of a smithy :        Oak for the frame work, sawn and boiled frames,                                                                            Norvegian pine for 35mm planking,                                                                                           Galvanised iron for the floors, knees, nails and bolts for fitting, and a 9 tons ballast keel,           and here is our  spissgatter!                                                                                                                           The deck is of varnished pine, hatches, coaming and accomodations in mahogany.
With the time, and the wishes of the owners, many works will mark out the life of "Mars", became "Skoiern". Maintenance is not enough, and often it's necessary to replace, remake, repair and the big works will follow :                                                                                                        In the years 1950 Louis Rivière wil do the first alterations : take out of the bowsprit, backward of the mast, building of a coach roof to protect the crew cockpit. The accomodations began to be changed.                                                                                                                                                      In 1997 "Skoiern" enter "H²O Yachting" shipyard, in Marseille, to make a new deck. In fact, for 11 months, we will replace all the beams, the shelf, the deck, many frames, rescrew the topsides ….
In 2004 at "Archimer" shipyard, Frioul islands, in the bay of Marseille, Olivier Auplat, from "Marenostra" , and his partners will replace 120 meters of planking. Larch from Queyras, so strong that it will destroy the sawmill during the saw up of the planks ! which will equiped garboards, riboards, up to 10 planks of both sides. Once again many frames will be replaced, the bottom rescrewed, I will calk myself all the hull and replace all the keel bolts remaining, a total of 18 !
In 2009 Jean Yves Larour, from "Archimède" in Douarnenez will built for us the saloon we were dreaming of. He will also make the exact copy  of our dinghy, more strong and unsinkable, to look more quietly our future journeys.
En 2014, near Vancouver, in Richmond, we make the choice of Bo Spiler and his shipyard "Commodore's boats", on the Fraser river, to remplace some planking and frames :  red cedar for the topsides, douglas fir for the bottom, a multicentenary wood, with a perfect grain…you can find this only here !
Of course there as been much more, and there will be more, but we love the atmosphere of the shipyards, were we take the time to go to the bottom, where you have the huge pleasure to see real craftsmen working, to sniff the wood going out of the steambox and to admire, again and again, the wonderful lines of our boat.