1917/1918 :
Building of " Mars " at  Jørgensen & Viik boat yard. for the price of 35 000 Kr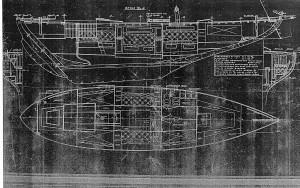 This  plan of the accomodation arrangement of Lady III, given by  Lisa Benson, from the Norsk Sjøfartsmuseum in Oslo, is without any doubt  similar of the one of Mars (Lady : 14,65 m x 3,65 m x 2,64 m)
1933 :
Sold for 8000 Kr
Bermudian cutter riging
24 june 1933 :
French registered at Le Havre.
Renamed "Skøiern", wich means "Mischievous" in norvegian
1933 :
Breaking of the mast at 2 m from the top
Engine installation : gasoline engine Ballot, 12/15 Hp
1938 :
Louis Rivière sails on board of "Skøiern".  Keraudrun  is in charge of the boat
1939 :
26/08 :
Arrival in Saint Malo, coming from Jersey
10/09 :
Arrival in Paimpol
06/08/1940 :
Requisitionned by the germans. Sent to Lézardrieux. The germans damage it badly when beaching with poles. More they try to burn it with a incendiary grenade in the cockpit, but without big damages. Ach !
26/02/1942 :
End of the requisition, back to his owners, anchored in Paimpol
1948:
02/06/1948 :
Sold by auction,  L. Rivière buy the share of  Heineman for 97 000 Fr
21/06/1948 :
2d auction sale, Louis Rivière buy the share of Stern for 405 000 Fr
After 1948 :
Modification of the aft roof .
Big works. Removal of the ballast keel. Replacement of the keel bolts.
Displacement of the mast (back). New mast in Oregon pine made by Costantini
1950 :
Installation of the gasoline engine Fergusson, 27 Hp
June 1951 :
At the  Sibiril shipyard in Carantec
1954 : In Belle  Ile….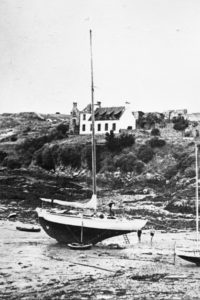 1964 :
New deck made in iroko
1968/1969 :
Transformation in ketch by L. Rivière. Metalic mizen mast coming from ''PEN DUICK III''.
Main mast in spruce made by Craff
01/07/1971 :
Sold to  De Roux brothers for 70 000 Fr
28/03/1975 :
Sold for 80 000 Fr to Bernard Gaume
around 1976 :
Replacement of the ''Fergusson '' engine by a RMC 55D, diesel of 55 Hp, new
1979:
28/11/1979 :
Sold for 110 000 Fr to Patrick Chalmeau
Décembre 79 :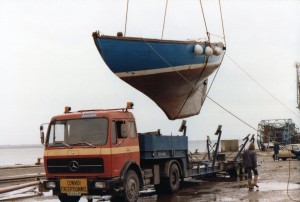 Transported by truck  to Marseille, launched at the Pointe Rouge,
Arrival at the Vieux Port anchored in front  of  the fish market.
1986 :                                                                                                                                                          First sailing in the Med, after six years of work
Summer 2000 :                                                                                                                                    Participation to the Maritime meeting in Brest, Douarnenez and Ushant 2000.                 Marseille,  Açores islands, Brest and back.
June 2006 :                                                                                                                                             Sailing from Marseille for the Atlantic : Madère, Azores, Britany, Norvay…
March 2011 :                                                                                                                                           Departure from Paimpol for the "Great voyage"